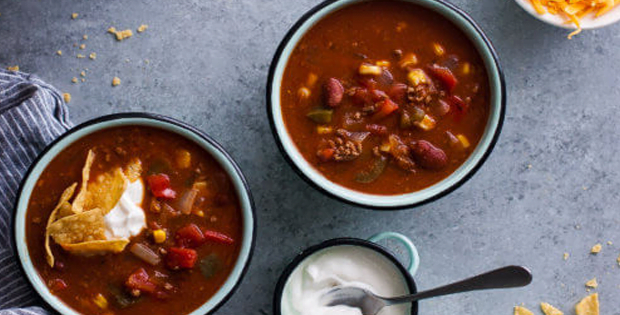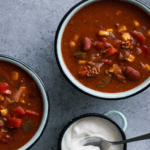 Yield: 3-4
Prep Time: 15 minutes
Cook Time: 6h 00 min
Print
A Super Healthy And Effortless Crock Pot Taco Soup
Prepare a quick soup dish that is totally free of gluten.

I am feeling a bit under the weather today but I still can't help myself from facing my computer to share a recipe with you all. And since I need some comfort food, I was thinking of something warm and healthy to help me get through my condition.
This recipe entails for one to sauté and use the slow cooker after. But don't be threatened as it is very easy to once you get the hang of it. And if you want to serve something you can prepare in 30 minutes and cook for about 2 hours while you clean up for unexpected guests staying for dinner or lunch, you can definitely have this as an option.
Check out the recipe below.
Slow Cooked 30-Minute Taco Soup
Instructions
Place the olive oil in a large saute pan and heat on medium/high. Add the ground beef to the pan (unless you have a high fat content ground beef and then you don't need the oil). Break the beef into small pieces as it cooks, using a wooden spoon. When the beef is cooked through, add the onion and seasoning packets. Stir together and saute for another 5 minute, or until onion is translucent.
Transfer the beef mixture into a soup pot or crock pot. Add the tomato sauce, diced tomatoes, kidney beans, corn, and water to the crock pot. Stir to combine.
Either cook on the stove in the soup pot for as little as 10 minutes, or alternately, cover the crockpot with the lid and cook on high for 2-3 hours or low for 5-6 hours.
Serve topped with sour cream, shredded cheddar cheese, and tortilla chips.
Cooking it in the slow cooker will allow the ground beef to tenderize perfectly and the flavors to blend to make it taste divine. And I love how this dish can make me help all better on days like this. Try it out and share with me what you think about it.
A very big thank you to glutenfreedaddy.com for this amazing recipe.