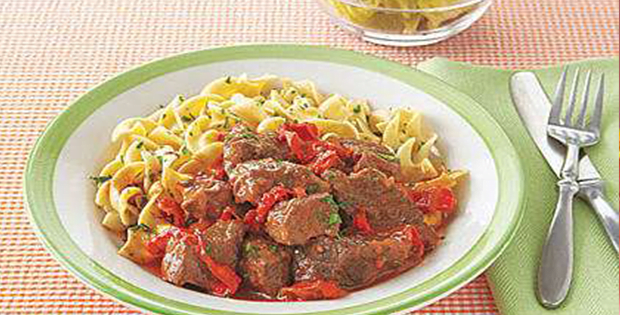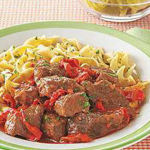 Yield: 4
Prep Time: 15 minutes
Cook Time: 6h 00 min
Print
A Hearty Slow Cooker Hungarian Beef Goulash
For a healthy output this amazing dish is best served over egg noodles.
Being adventurous and trying new dishes is always something I look forward to, whether it be at home or in a restaurant or in parties. this dish is one I actually discovered  in one party of a friend. Then when I started getting busy I completely forgot the name.
After a while I was able to come across it online. And now I should and must share it with you. It is one of those recipes you will definitely love and eventually not forget the taste. Although this is a slightly different version of the original Hungarian dish, the slow cooker can make it as amazing as the original.
Check out the recipe below.
'
A Hearty Slow Cooker Hungarian Beef Goulash
Instructions
Warm oil in a large skillet over medium-high heat.
Add beef and cook, turning, until browned on all sides, 5 to 7 minutes.
Remove to a slow cooker and pour off all but 2 Tbsp. fat from skillet.
Add onions to skillet and cook, stirring, until softened, 3 to 5 minutes.
Add garlic and sauté 1 minute longer. Stir in paprika, caraway seeds, tomato paste and chicken broth. Bring to a boil, stirring to pick up any browned bits on bottom of skillet, and pour over beef in slow cooker.
Add bell pepper, cover and cook on low for 6 hours.
Season with salt and pepper. Serve hot, with sour cream on the side, if desired.
This is actually not only very delicious but is also a very healthy dish. It can be a great option if you have simple family dinners or if you have pot luck parties to go to.
Ty it out and do update me of what you think about it. Happy slow cooking!
A very big thank you to myrecipes.com for this amazing recipe.