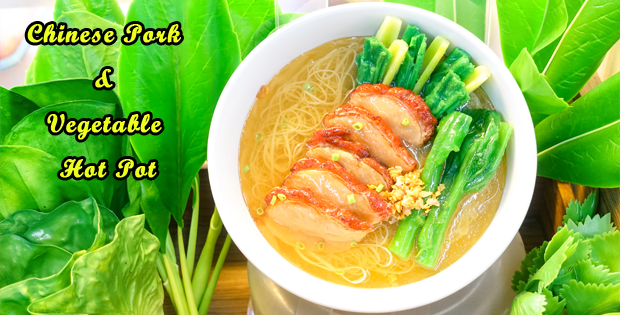 Pork and veggie together in a great hot dish for the fam.
Having a busy schedule usually forbids us to whip up something healthy for ourselves and even our family. Although there are tons of great restaurants now that can give you a quick and healthy meal without the mess in your own kitchen, it is still an awesome feeling to have a home-cooked meal which you made yourself.
And I'm sure a number of you would agree that at the end of the day a good hot meal (personally it would be soup for me) is just perfect. Now this Chinese dish cooked in a slow cooker which is rich in flavor will definitely complete your day. It's easy, healthy and truly delicious. I could say that it is certainly food for the soul.
Check out the recipe below.
---
Chinese Pork & Vegetable Hot Pot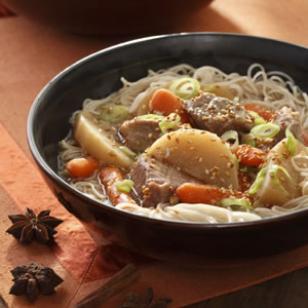 Ingredients:
2 cups baby carrots
2 medium white turnips, (8 ounces total), peeled and cut into 3/4-inch-wide wedges
2 1/4 pounds boneless pork shoulder, (picnic or Boston-butt), trimmed and cut into 1 1/2-inch chunks
1 bunch scallions, sliced, white and green parts separated
1 14-ounce can reduced-sodium chicken broth
1/2 cup water
1/4 cup reduced-sodium soy sauce
3 tablespoons medium or dry sherry, (see Ingredient Note)
4 teaspoons brown sugar
2 tablespoons minced fresh ginger
1 tablespoon rice vinegar
2-4 teaspoons Chinese chile-garlic sauce
4 cloves garlic, minced
1 star anise pod, (see Ingredient Note) or 1 teaspoon aniseed
1 cinnamon stick
4 teaspoons cornstarch mixed with 2 tablespoons water
2 tablespoons toasted sesame seeds, (see Ingredient Note) for garnish
Instructions:
Place carrots and turnips in the bottom and up the sides of a 4-quart or larger slow cooker. Top with pork and scallion whites. Bring broth, water, soy sauce, sherry, brown sugar, ginger, vinegar, chile-garlic sauce to taste and garlic to a simmer in a medium saucepan over medium-high heat. Pour over the pork and vegetables. Nestle star anise pod (or aniseed) and cinnamon stick into the stew. Cover and cook until the pork and vegetables are tender, 3 to 3 1/2 hours on high or 5 1/2 to 6 hours on low.
Discard the star anise pod and cinnamon stick. Skim or blot any visible fat from the surface of the stew. Add the cornstarch mixture, cover and cook on high, stirring 2 or 3 times, until slightly thickened, 10 to 15 minutes. Serve sprinkled with scallion greens and sesame seeds.
Resource: eatingwell.com