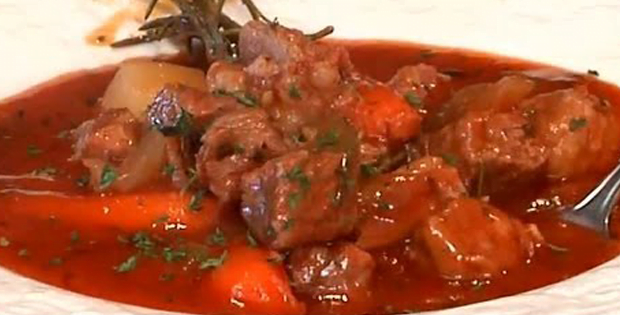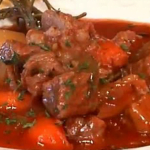 Yield: 12
Prep Time: 20 minutes
Cook Time: 2h 00 min
Print
A Fancy And Delish Slow Cooked Beef In Red Sauce
Slow-cooked beef dish that gives you a fancy restaurant-feel like no other.
Having a fancy meal in a fancy restaurant is usually what we intend to do on special occasions. But it would also be very nice to have a special restaurant like dish at home to share with your loved one.
This recipe gives you exactly that special restaurant dish. Whether you are having a special occasion or a regular meal, this beef this will surely be a winner. You will be able to brag to everyone that you are having fancy meals even just in your very home.
Check out the recipe below.
Slow Cooked Beef In Red Sauce
Instructions
Prepare a grill for medium-high heat. Toast the guajillo chiles, california chiles, and chiles de arbol on the grill until they are charred in spots, 8 to 10 minutes. Set aside to cool, then remove the stems and seeds and cut them in half. Put aside 6 guajillo halves. Soak the rest of the chiles in water, 10 to 15 minutes.
Meanwhile, add the coriander, cumin, oregano, peppercorns, allspice, ginger, cloves, bay leaves, garlic and onion to a blender, and add enough of the soaked chiles to come about halfway up the blender cup. Add 1/2 cup of the chile soaking liquid and 1 cup water and process until very well blended and runny. Transfer to a large bowl. Blend the remaining soaked chiles with more water as needed.
Heat 1/2 cup canola oil in a large saucepan over medium heat, then add the blended chile sauce and cook until it begins to simmer, about 5 minutes. Remove from the heat and set aside.
Bring 1/2 gallon of water to a boil in a large pot.
Meanwhile, sprinkle the beef shanks on both sides with a pinch of salt. Heat the remaining 1/2 cup oil in a large, heavy skillet over very-high heat, then sear the beef shanks until a golden crust is formed, 2 to 3 minutes on each side. Transfer the seared shanks to the pot of boiling water, then add the sauce and reserved 6 chile halves. Add the remaining 1/2 cup kosher salt to the mixture and boil over medium heat, uncovered, until the sauce reduces, 20 to 30 minutes. Cover and simmer over low heat until the meat is fork-tender, about 1 hour. Taste the sauce and add salt as needed.
If you love this recipe and it has truly given you that fancy restaurant feel, rate this recipe below and leave your comments about it.
Watch out for more exciting dishes on my next posts. Happy slow cooking!
A very big thank you to foodnetwork.com for sharing this amazing recipe.