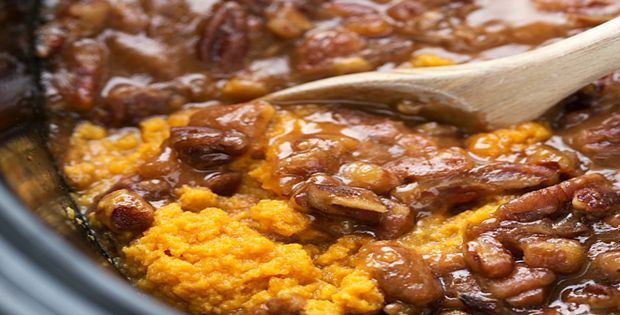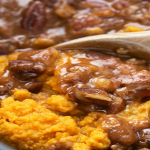 Yield: 10
Prep Time: 10 minutes
Cook Time: 3h 00 min
Print
A Family Favorite Slow Cooker Sweet Potato Casserole
Here is another home-cooked meal you can definitely serve for your family.
Since I am looking for super yummy but extra healthy slow cooker dishes for the family, I just had to try this recipe. One of the other reasons I tried it out is because my youngest son loves potatoes and I figured that sweet potatoes would be a very good substitute to regular potatoes.
The word casserole alone makes this such a homey dish that your family can enjoy especially on a weekend. The sweet potatoes give it a different touch compared to the usual casserole we always prepare.
Check out the recipe below.
Slow Cooker Sweet Potato Casserole
Instructions
Either line your slow cooker with a disposable liner or spray generously with nonstick spray. I use a 6 quart slow cooker for this recipe.
Drain the sweet potatoes. Add the sweet potatoes, butter, white sugar, pinch of salt, brown sugar, and orange juice in the slow cooker.
In a small bowl, lightly beat the eggs with a fork. Pour in the lightly beaten eggs, vanilla extract, and milk into the slow cooker.
Beat until completely smooth. (Alternatively, you can beat all of these ingredients in a different bowl).
Smooth the mixture with a spatula.
In a small bowl, stir together all of the topping ingredients. Spread the topping mixture evenly on top of the sweet potatoes.
Cover the crock pot and cook on high for 2 and 1/2 to 4 hours depending on how hot your slow cooker cooks.
The flavors are actual a real treat if this is the first time you will be having sweet potato in your casserole. It is one of those dishes that will make you forget about your worries and surprisingly satisfy you.
Happy slow cooking!
A very big thank you to chelseasmessyapron.com for this amazing recipe.