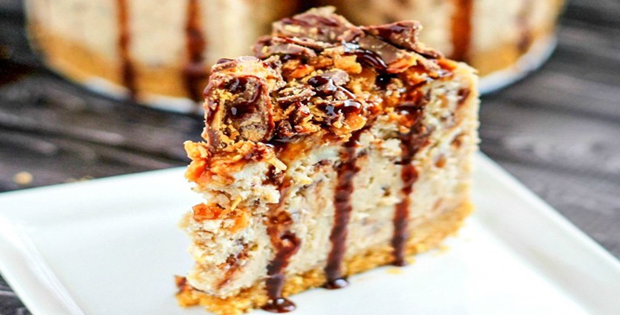 A very luscious cheesecake recipe you can make with your slow cooker.
Not much of a baker? No luck with using an oven? But craving for a really good cheesecake? I may be asking too many questions, but what if I told you that that you could actually have that cheesecake without having to use an oven?
If you love your slow cooker that much and would dare to cook anything in it, then you should definitely try this Butterfinger Cheesecake recipe immediately. Using a slow cooker for a cheesecake actually has a really great turn out. Since you will be using a slow cooker, the cheesecake is steamed up. This makes it all creamy and smooth.
Now, I adore this recipe coz it uses Butterfingers. Thank you to the owner of this recipe, my kids love cheesecakes even more now than they used to. It is crazy delicious and very very addicting. Everyone who tries it will surely be asking for more or the recipe.
Check out the recipe below.
---
Slow Cooker Butterfinger Cheesecake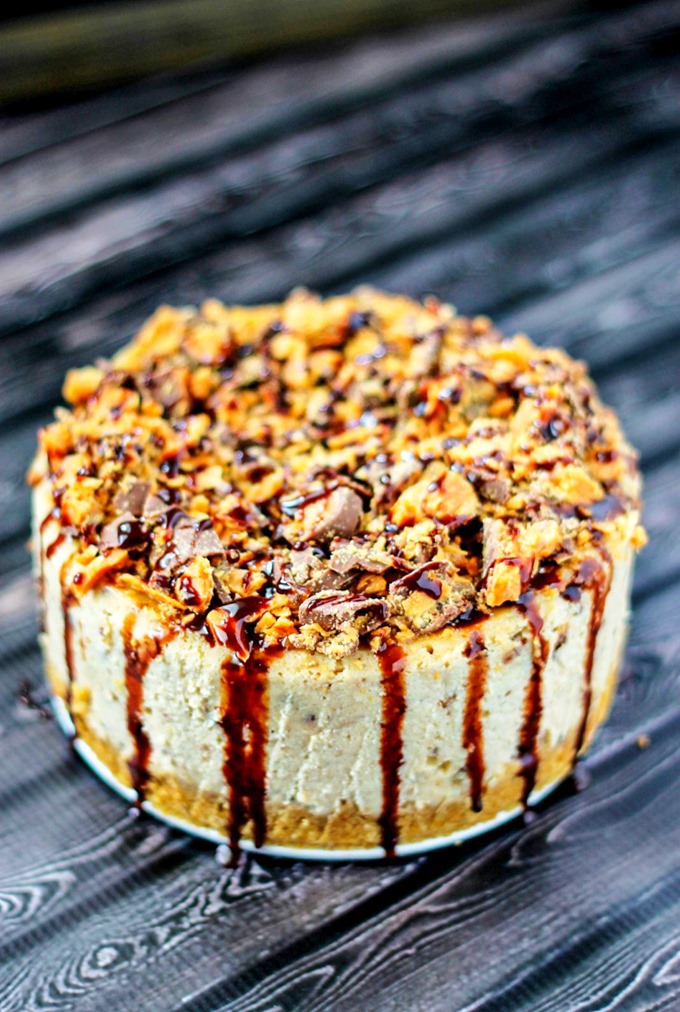 Ingredients:
1.5 packages (12 ounces total) cream cheese, softened
1 tsp vanilla extract
1⁄2 cup sugar + 1 TBS Sugar
1 TBS flour
1⁄4 tsp salt
2 eggs
1 cup sour cream
5 fun size Butterfingers, chopped roughly (or 1 whole regular sized candy bar) + 3 fun size for topping
3⁄4 cup graham cracker crumbs
2 TBS butter, melted
chocolate sauce for topping
Instructions:
In the bowl of a stand mixer, add cream cheese, vanilla, and 1⁄2 cup sugar, salt and flour; using the paddle attachment beat on medium until completely combined and no lumps. Add eggs, one at a time, beating until mixed. Add sour cream and beat for 30 seconds; scrape down the sides of the bowl with a spatula; beat 15 additional seconds. Add the 6 chopped Butterfinger bars, and beat 20 seconds. Set mixture aside.
In a medium bowl, mix graham cracker crumbs, butter and 1 TBS sugar, with a fork; combine. Pour crumbs into the bottom of the spring form pan and press down evenly to make the crust.
Pour the cream cheese mixture on top of the crust, into the spring form pan.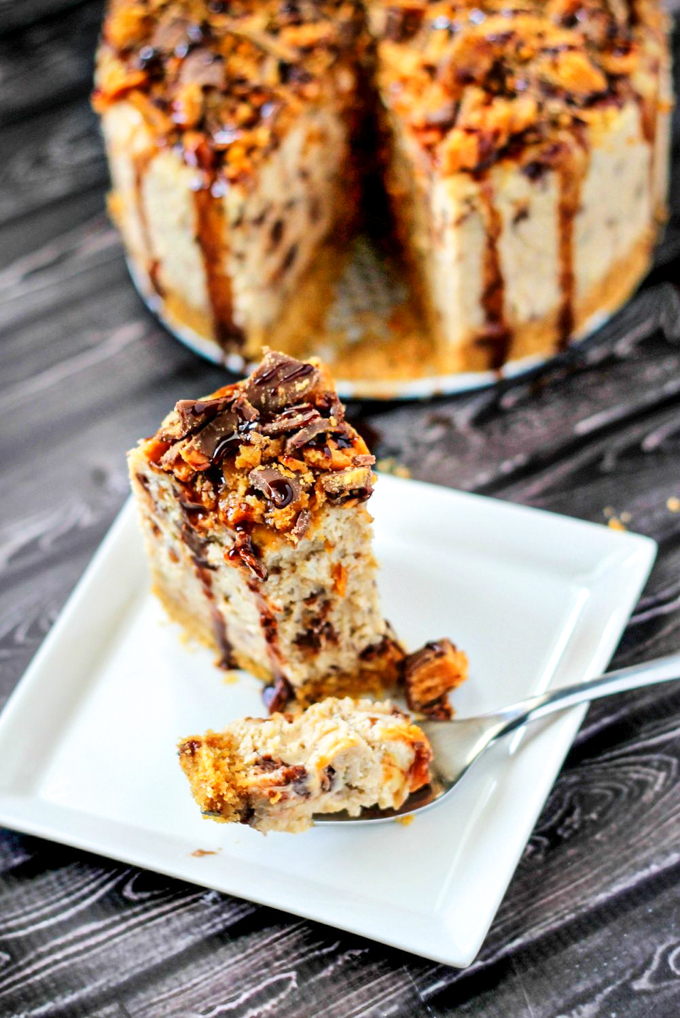 Add 1 inch of water to your large slow cooker (5, 6, or 7 quart slow cooker). Place a wire rack into the bottom (I used 3 rings from Mason jar lids to set it on), and then place the filled spring form pan on top of rack. Lay 3 layers of paper towels across the top of the slow cooker (hold tight so they don't fall and touch the cheesecake), then place the lid on top.
Cook on high for 2 hours (do not remove the lid at all during this time), turn off, remove lid and paper towels, and let stand for 1-2 hours or until slow cooker is cool. Place cheesecake in pan into the fridge and let set for at least 4 hours, preferably overnight.
Using a non-serrated long knife, run it between the cake and the pan sides, then release the lock and pop to cake out on the base. Using the remaining 3 fun size Butterfingers, chop and sprinkle over the top of the cake. Drizzle chocolate sauce over the top. Slice and serve!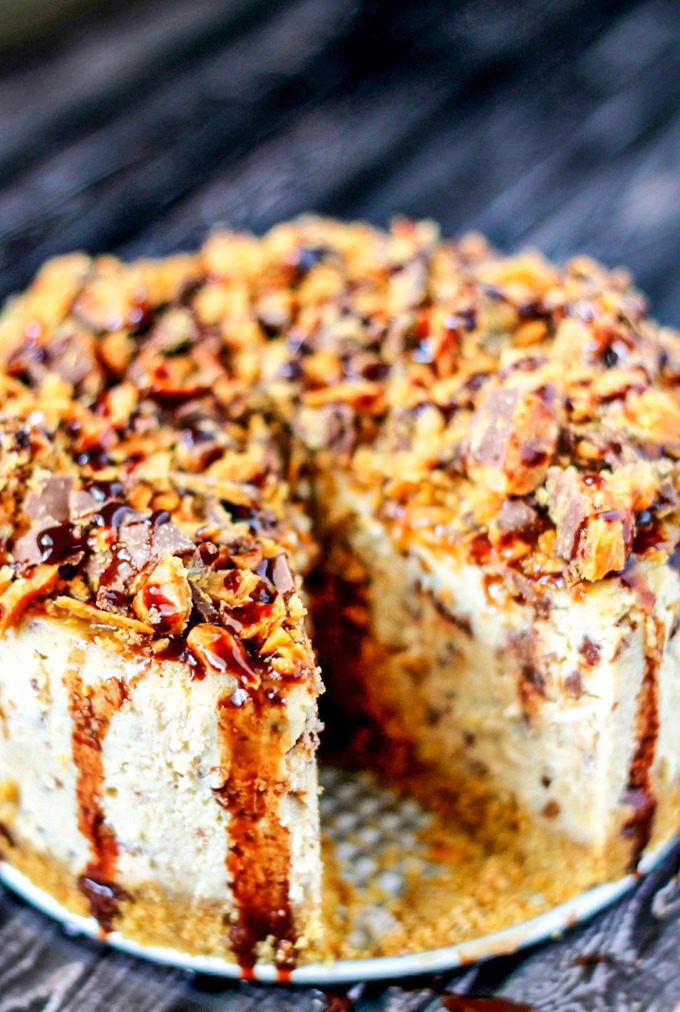 Thank you so much Allyson from domesticsuperhero.com for this great recipe.