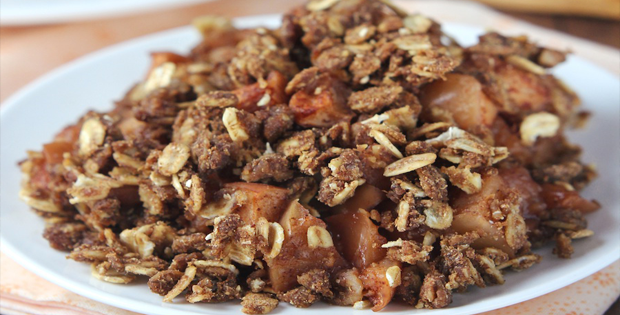 An amazing fall dessert that everyone will absolutely love.
Smelling cinnamon from the kitchen is just a heavenly thing for me and my eldest son. This is especially 10 times more amazing if we have something cooking in the slow cooker with cinnamon when we get home from errands, work or school.
This is one of the perfect desserts you can serve for yourself, your family, friends and even co workers if you are having a get together. The special mix of spicy ginger, rich molasses and cinnamon will give you and everyone who tastes it a coziness you will certainly long for even after having just eaten some.
We love this especially during cold times. It keeps us warm and I love how it gives out that comfort food feel. I usually make a whole bunch of this and store them in an airtight container for future consumption and for my kids' snack for school or at home. It could last of up to a week.
Check out the recipe below.
---
Slow Cooker Gingerbread Apple Crumble
Ingredients:
7 c (845g) diced red apple (about 7 small)
2 tbsp (15g) cornstarch
2 tsp (6g) ground cinnamon, divided
1 c (100g) old-fashioned oats
5 tbsp (37g) whole wheat or millet flour
4 tsp (7g) ground ginger
2 tbsp (30mL) molasses
1 tbsp (21g) agave
1 ½ tbsp (21g) unsalted butter, melted
Click on the NEXT button for the instructions.