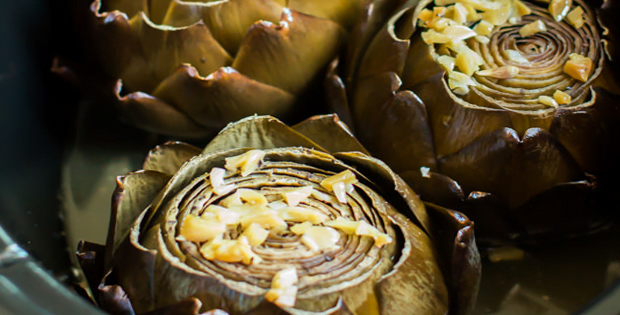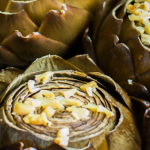 Yield: 8
Prep Time: 10 minutes
Cook Time: 3h 10 min
Print
Slow Cooker Garlic Lemon Butter Artichokes
The perfect crowd pleasing slow cooker dish you can serve in any party.
If you are looking for a dish that can feed a crown and will make them wonder how you made it, then this recipe is a must try for you.
What makes this dish so right with regard to flavor is how the garlic, lemon and butter blend so well on the artichokes. And this proves that you can never go wrong with simply suing garlic, lemon and butter. These are safe ingredients that will make your dish so flavorful.
Check out the recipe below.
[headline margintop="" marginbottom="30" clearfix="1" ]Slow Cooker Garlic Lemon Butter Artichokes[/headline]
Instructions
Cut the bottoms off the artichokes so they sit flat. Also cut the very tops off the artichokes. If you have a hard time getting the artichokes to fit, peel off a few off the leaves and that should allow them all to fit nicely.
Add the artichokes to the slow cooker.
Sprinkle over a pinch of salt and pepper, then add the garlic.
Squeeze over the lemon juice. Cut the butter into slices and place on top of the artichokes. Add the water to the bottom of the slow cooker.
Cover and cook on HIGH for 3.5 hours without opening the lid during the cooking time.
Serve with melted butter (or mayonnaise).
This is a flavorful healthy dish that even kids will love. This is a great choice for parties, big or small. So try it out and tell me what you think by leaving comment and rating the recipe blow.
Happy slow cooking!
A very big thank you to themagicalslowcooker.com for this delicious dish.